A comprehensive guide for musicians and people looking for live music entertainment in Connecticut. Information on CT Bands, calendars, stages & venues, events, recording studios, record companies, booking agents, a legal corner, education, music stores, repair shops, photographers, classifieds, message board, online ct cd store, gift certificates & more....! Find music businesses in Fairfield County, New Haven County, Hartford County, Middlesex County, Litchfield County, Tolland County, Windham County, New London County Connecticut Area.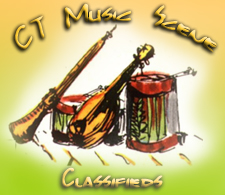 To update your item, enter code below.
CT Music Scene and its Sister Sites
are looking for someone to help! There are currently 3 Bikers Guides, a Music Site and a Dining Guide. Need sales and updating help... if interested please contact the Webmistress... Kim@ctmusicscene.com or call 203-536-2420 Thank You!